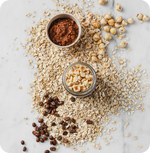 With us, plant-based living is more convenient. 
From our ingredients to our service, we keep things simple to bring you a delicious breakfast packed with slow-release energy for your fast-paced morning. 


We're all about #goodgutfeelings.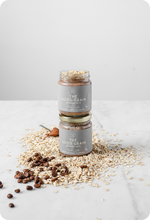 Our jars
We deliver ready-to-eat, overnight oats and chia puddings. Free from gluten, dairy and refined sugars and always made from 100% natural ingredients: from our British sourced oats to our specially-blended, nutritious superfoods. 
We do the work for you. We soak Jumbo oats and chia seeds overnight in creamy plant milk and then pair them with decadent flavours, such as Medjool dates, raw cacao and a selection of nut or seed butters – all hand-picked for their nutritional value.
Think porridge, but SO. MUCH. BETTER. 
Better because it tastes INCREDIBLE. 
Better because cold-soaking raw oats overnight breaks down their naturally occurring starches and ensures NO nutrients are lost. This makes them higher in fibre and lower on the glycemic index. 
Together this supports gut motility, makes it lighter on the stomach, and keeps you fuller for longer. You almost won't believe how good they are for you because they taste like an indulgent treat. 
So what seals the deal? The ease.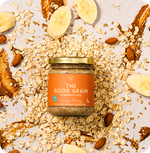 Why you want them in your life
Good mornings!

You'll never skip breakfast again because there's no shopping, no prep and no clean-up. Instead, you get insane flavour paired with powerful health benefits, to make your life easier and happier. 
A message from our founder
I was just like you. Busy, impatient, health-conscious, and trying (yet failing) to adopt a greener lifestyle. 


From the outdated sandwiches to the soggy fruit pots, I was getting frustrated by the 'healthy' fast-food options available. My energy was still lacking and I was never mentally energised or satisfied.


It wasn't cutting it for me, and it shouldn't for you too. 


I wanted to enjoy something that shouted benefits – better taste, and better for you. Something delicious that curbed all cravings, scrapped the bloat and NEVER compromised on flavour or convenience. I wanted to feel great both inside and out; to know that I was doing something good for my body and mind, because ultimately that's what sets you up for a good day.


I didn't succeed. So The Good Grain was born, to bring you something filled with plant-based benefits that be can enjoyed ANYTIME, ANYWHERE. 


I can't wait for you to join me so you can reclaim your mornings, and start enjoying good gut feelings too.


Jubilee x
As seen in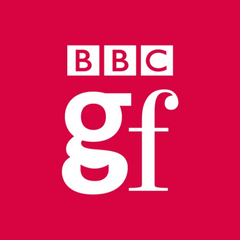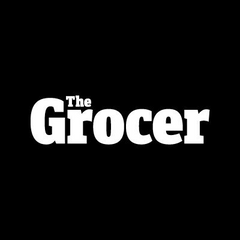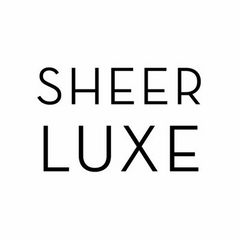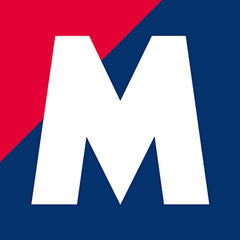 Follow our journey @thegoodgrain_