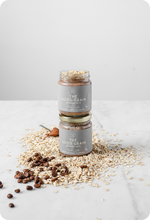 Learn more about products:
What are overnight oats?

They're a nutritionally superior alternative to traditional hot porridge. That's because the oats are raw and don't lose any of their nutrients in the cooking process. We soak British oats in responsibly sourced cashew milk, resulting in a creamy and easy-to-digest, cold porridge. When whole oats are soaked overnight this way they produce Oat-Gum, a source of the fibre, beta-glucans. This fibre forms a gel like solution in the gut and is beneficial in supporting gut motility (keeping things moving). It's also been linked to supporting a low cholesterol level and promoting the growth of good bacteria in the digestive system.
Aren't all oats the same?

In short, no. The Good Grain jars contain a blend of Jumbo and Rolled oats which are higher in fibre and have a lower GI than heavily processed oats. 'Quick oats' are called quick for a reason. They're quick to cook and quick to digest, which means you get a quick burst of energy – quickly followed by an energy slump. With our overnight oats you still enjoy a fast breakfast, but with slow release energy. Your body takes longer to break-down the sugar in large oats, so you feel fuller and more energised all morning.  
What do Good Grain Overnight Oats taste like?

They're naturally rich and creamy in texture, with subtle layers of flavour and just the right amount of satiety. Discover the collection here.
Are the jars vegan?

Yes, all of our jars are certified vegan, and free from lactose, dairy and soy.
Are the jars free from refined sugar? What's so great about this?

A big fat YES! We use pure, organic maple syrup, a plant-based alternative to honey and artificial sweeteners. Maple syrup comes from the sap of maple trees, making it a powerful natural sweetener to be used in small amounts. It's also a source of Vitamin B2, aka Riboflavin, which helps maintain a healthy nervous system, happy skin, and energy levels.
Do the jars contain any allergens?

The Good Grain jars contain nuts, so they're not suitable for people with nut allergies and our Maple Tahini flavour contains sesame. Please check each ingredient list carefully, and know that although we do everything we reasonably can to prevent cross-contamination, there's a chance that sesame could end up in other flavours.
How do you source your ingredients?

Quality ingredients is our mantra – because it's the core of nutrition and natural flavour. We dedicate a lot of time to finding and testing the highest quality ingredients from trusted producers. Our oats are sourced from gluten-free, British farms that both grow and process the grain on site. This guarantees uniform quality control and a lower carbon footprint.

We're constantly looking for ways to improve our supply chain – for our customers, suppliers and mother earth – so if you have any suggestions, definitely get in touch!
How do I store my jars? Do they need to be refrigerated?

Your order will be delivered chilled and the jars needs to be refrigerated when they arrive.
When should I enjoy them?

WHENEVER. For breakfast at home or at your desk. For refueling pre and post-workout. As an afternoon snack or an after-dinner dessert. Plus, if you ever have a craving or a hunger pang, think The Good Grain.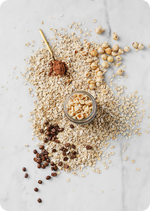 Learn more about delivery:
How long do my overnight oats last?

Our jars are prepared in small batches without chemical preservatives, which means they have a shorter shelf-life than most processed products.

 Always check the use-by-date on the back of each jar and keep
these points in mind:

• For maximum taste, eat the fruit flavours first (fruit is prone to softening in the fridge)
• If you need to freeze some of your jars, do it as soon as they arrive. Then defrost in the fridge overnight and enjoy within 24 hours.
How do you keep the jars fresh during transit?

All jar shipments are packed in an insulated liner with ice packs to keep them cool during transit. We express dispatch out of London overnight so you get quality and freshness at your doorstep the following morning.
Are Local Delivery orders packed with ice packs?

Not always! Because local deliveries are processed quickly, sometimes we use giant cool boxes to keep them fresh instead. We recommend booking a delivery slot when you're home, so that the jars can go in the fridge asap.   
What kind of packaging does The Good Grain use?

We're care about our planet, so we're not going to greenwash you. Our packaging isn't carbon neutral but all of it can be recycled or repurposed to avoid single use.

All our cardboard boxes and glass jars (lids included) are 100% recyclable.

If your delivery address is outside London, your order will arrive in a temperature-controlled parcel. The polystyrene is recycled by most councils. If not, consider holding on to it for when you need to ship or store fragile items.

The plastic icepacks can be recycled (the outer film is recyclable as LDPE 4). But the coolant gel inside the packs must be disposed as normal household waste.
Can the ice packs in my shipment be reused?

Yep! And we'd love it if you did. Here's some of our favourite ways to reuse them: 

Post workout recovery:

If you've overdone it again during your workout, wrap the frozen gels in a towel to ease sore muscles. Or drop them into cold water for an ice bath.

As a cool box:

Add them to a lunchbox, a picnic basket, or your groceries bag to keep your food fresher for longer.
What if I am not home at the time of delivery?

For London deliveries, we'll always try to leave your order with a neighbour and share the details with you.


For deliveries outside London, our courier will send you a 1 hour time-slot the morning of your delivery*. If you're not able to accept the parcel at that time, please follow their instructions to "leave in a safe place". Please don't try to rearrange delivery for the following day, as the packaging will only keep the products chilled for 3 hours. If you encounter a mishap, please get in touch.


*The slot is assigned by the courier and can't be changed by you or The Good Grain, but we're working to change that in the future.   
Where do you deliver?

We deliver all around London and UK Nationwide.
What do I do if my order arrives damaged or incorrectly?

Please send an email to hello@goodgrain.co.uk with a photo of the damaged shipment. Once we've verified what went wrong, a refund or replacement will be issued. The sooner you get in touch the quicker we can resolve things for you.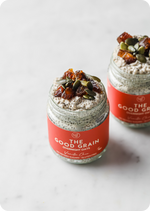 Can I order these as a gift?

Yes, and we salute you for the idea. We don't include an invoice or prices in our delivery notes so you can order and checkout as usual. If you have a special request, please email hello@goodgrain.co.uk and we'll do everything we can to make your gift happen.
What do I do if I have an issue with my order/delivery?

Issues are rare at The Good Grain, but if something isn't right please contact hello@goodgrain.co.uk with your order number and a brief description of the problem. We'll get back to you asap.
Are you hiring?

As a small business, we are always looking to expand. Please send an email to info@goodgrain.co.uk and let us know how YOU can make our business better.
Can I cancel or change an order after I've placed it?

Yes, but we ask you to move quick. There's only a short window of time for us to edit or cancel your order, as we try to fulfil orders fast! Email hello@goodgrain.co.uk and we'll do our best to catch your order before it ships out.
Do you sell wholesale?

We're passionate about promoting plant-based living, so we collaborate with offices, delis, cafes and hosts nationwide. If you need a single order for your next event, no problem. If you'd like a regular supply for your business, we've got you covered. If you just want to be the best boss, we can help. Please send us an email at info@goodgrain.co.uk so we can begin a beautiful friendship.
I have a question that's not covered here, what do I do?

Please get in touch at hello@goodgrain.co.uk. We always love to hear from customers and will get back to you as soon as we can.